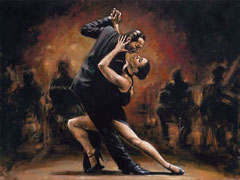 Smutmarathon round 4
The heat is on: literally and in a figurative sense. The assignements are getting harder, the competition tougher and the topics more challenging.
As a dutchie, it is hard to write in a language that's not your own. So I am delighted to see myself still in the competition (despite the number of withdrawals, I think I would still be in there).
Anyway, here is my story for the last assignement involving dance in max 325 words. It got me some votes from the public, unfortunately I have not yet convinced any jury member. If you voted for me: thank you!
On a square meter

The small courtyard is poorly lit. Faint lightbulbs are dangling on a crooked string, leaving the centre of the earthen floor covered in shadows.
With their backs to the ramshackle walls, three men slowly play a guitar, bandoneon, and violin. Although the sun has set hours ago, the heat of the day still resides and the players glimmer of sweat.

I have no fear. Not yet. Without looking at him I catch flashes of the white of his eyes that penetrate the air surrounding me. I know he is waiting for me to step onto the tampered dirt with my strapped heels and tight skirt. I pretend I don't care about this vibrating space between us.
The music sounds like a passionate sigh of desire, calling me, drawing me into drama, a testimony of tears, life's suffering, moonlight lovemaking and broken hearts. I take my first step, inexpungable and vulnerable, drawing his attention by ignoring him.

His arms are tight and straight and solid. I lean my upper body against his firm shoulders, brush my breasts against his chest, our foreheads touching. Impelling me forward and swirling me back, he guides me with the beating of his heart, telling me about his life and the promise of his love without a word.
I want to evade him, for my fear has awakened. But I cannot escape my own pulsating desires and long to be conquered, to be taken. The only reason my legs dance away from him is because he then can scoop me back. I wrap my leg around his, our hips lock together, I feel his throbbing passion through the fabric of my skirt. His warm breath whispers my name when I surrender to his lust that found the route to the essence of my femininity.
How he will make love to me later is of less importance. This dancing moment is an orgasm of the soul in which I slowly die.